Water Recycling Project by Students Filters Waste Water from Institutions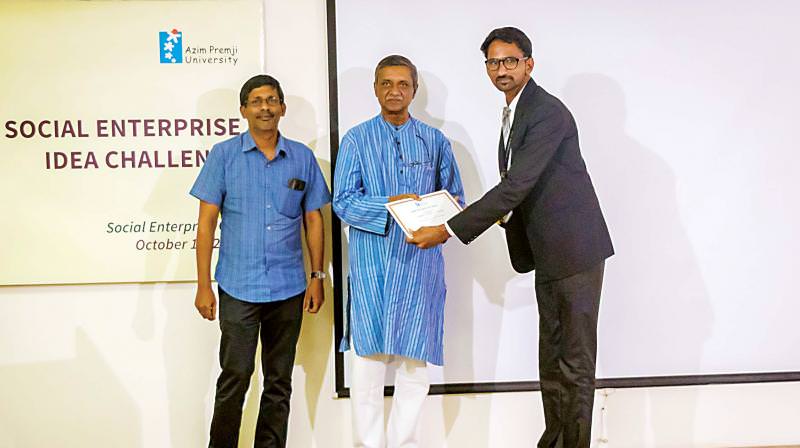 "The best solution to this prospective challenge is recycling water and make it reusable," says Jitendra Singh Choudhary and team from M.I.T. Group of Institutes, Ujjain.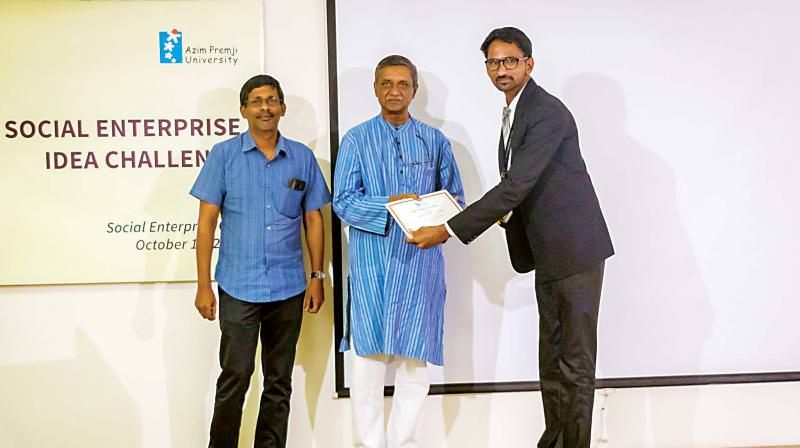 Jitendra Singh (right) receiving the first prize at the National Social Enterprise Idea Challenge held at Azim Premji University in Bengaluru, Image Source: Deccan Chronicle
Titled 'Shuddham', the project has led to the development of a device which filters waste water from all institutions under the purview of Mahakkal Group in Ujjain. Jitendra claimed the machine helps recycle 500 litres of water a day.
"We have installed four such machines in a single college campus thus saving 60,000 litres of water per month. As producing water when all possible sources face various levels of depletion is completely impossible, the extent of water crisis that we are facing and would be facing more in years to come can be reduced only by recycling and reusing," he told Deccan Chronicle.
Jitendra told Bangalore Mirror about his visit to Rajasthan and how he followed up on his idea. "After working on the prototype for nearly 3-4 years and making a couple of modifications and after lab tests, the machines were installed on the MIT Ujjain campus, near the hostel. The water is being reused. The machine has the capacity to recycle 500 litres of water per day. The cost of the machine is about Rs 7,000. About four machines have been installed on the campus," he said.
Read full articles: Deccan Chronicle and Bangalore Mirror