Toward Managing Rural Drinking Water Quality in the State of Punjab, India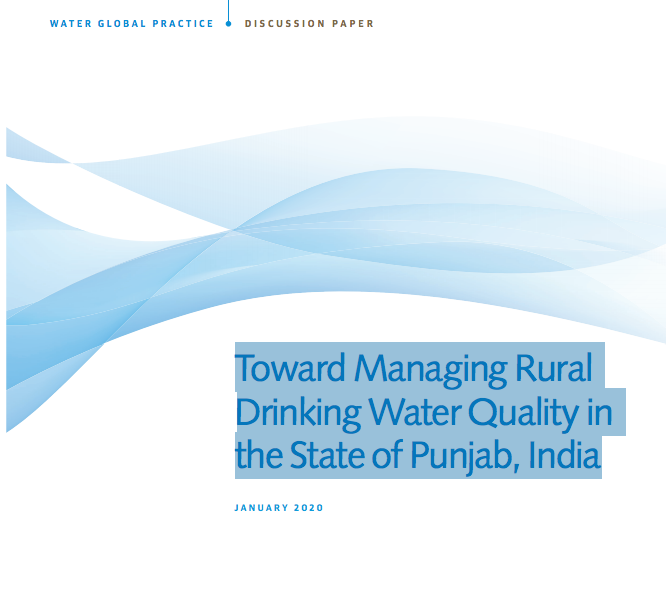 This report was prepared at the request of the Government of Punjab Department of Drinking Water Supply and Sanitation, as part of the ongoing engagement for the Punjab Water Supply and Sanitation Improvement Project. The analytical work was conducted in 2016-17 and the recommendations reflect the situation at that time. The State has made some progress in the implementation of these recommendations since. This report was prepared by a team led by Pratibha Mistry and Srinivasa Rao Podipireddy. The team consisted of the Water Quality Division of the Drinking Water Supply and Sanitation, led by Veenakshi Sharma, and Albert Tuinhof, Koos Groen, Prasad Modak, Anjali Chikersal, Subhash Verma, Simmi Mishra, Kedar Dash, Carter Borden, Anupama Kumar, Amit Nair, Qiong Lu, Pyush Dogra, Charu Jain and Sunita Singh. This report has benefitted greatly from formal reviews and comments from Nagaraja Rao Harshadeep, Susanna Smets, Miguel Vargas-Ramirez and Janardan Prasad Singh. The study has greatly benefited from the strategic guidance of Mr Suresh Kumar, Chief Principal Secretary to Chief Minister, Punjab.
This work was made possible by the financial contribution of the Water Partnership Program and Water Expert Team of the Water Global Practice, World Bank Group.
See complete report attached.
Report from Tribune News Service Feb 2020
Almost half of the groundwater in Punjab is unsafe and contaminated with hazardous chemicals, heavy metals and radioactive material. And in the absence of any remedial steps by the government, the remaining safe groundwater is depleting at a rapid pace. These facts have come to the fore in the first-ever audit report on Punjab's groundwater prepared by the Comptroller and Auditor General.
The CAG report says 40 per cent of the groundwater in the state is contaminated with chemicals and heavy metals beyond permissible limits. While 10 per cent of it is unsafe even for irrigation purposes, 30 per cent is marginally to moderately saline/alkaline, but can't be used by humans.
The quality of groundwater is classified as fit, marginal and unfit for agricultural use on the basis of electrical conductivity and residual sodium carbonate, which is indicative of its salinity and alkalinity.
Not adhering to the Bureau of Indian Standards norms, it was found that in 16 districts, fluoride was above the permissible limit (which is 1.5 mg in 1 litre); in 19 districts, nitrate (was above 45 mg in one litre); in six districts, arsenic (was above 0.05 mg) and in nine districts, iron (was above 1.0 mg).
The CAG noted that Punjab has the maximum percentage of wells showing depletion in groundwater and figures among the top 10 worst-affected Indian states (pre-monsoon data 2018).
Punjab is extracting water from the ground at the highest speed in the country. The report has found that groundwater extraction has increased from 149% in 2013 to 165% 2018. Going into the reason, the CAG has noted that paddy sowing is the main culprit. SOURCE