State shows how to manage water resources, earns NITI Aayog pat | jaipur | Hindustan Times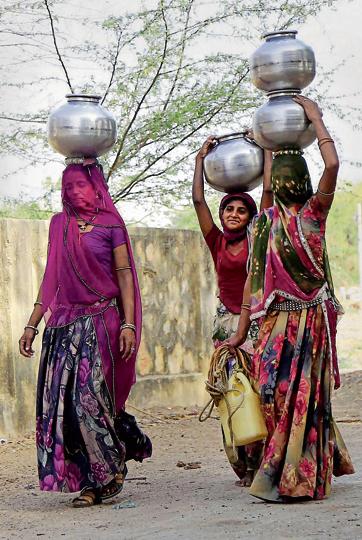 Rajasthan has improved its ranking in the NITI Aayog's composite water management index
By restoring 80 per cent of the irrigation potential of identified water bodies, largely through community-managed ponds and tanks, Rajasthan has improved its ranking in the federal think tank NITI Aayog's composite water management index (CWMI).
Released on June 14, the report highlights how India is suffering from 'the worst ever water crisis' with nearly half of country's population facing high to extreme water stress and about two lakh people dying every year due to inadequate access to safe water.
In that backdrop, Rajasthan has done some good work in restoration of surface water bodies and rural water supply provision in 2016-17, improving its ranking by three places.
The feat was achieved because of transformational state water policies such as Rajasthan's Mukhya Mantri Jal Swavlambhan Abhiyan (MJSA) and effective irrigation management —integrated irrigation solutions.
CWMI comprises nine areas of assessment with 28 different indicators covering various aspects of groundwater, restoration of water bodies, irrigation, farm practices, drinking water, policy and governance.
Of the 17 non-Himalayan states, Rajasthan in base year (financial year 2015-16) was ranked 13th, in 2016-17 it reached the 10th position.
MJSA is a multi-stakeholder project, which aims to make the remotest of the villages in the state water-sufficient, by focusing on reviving water bodies, increasing groundwater levels, and providing clean drinking water. Under Rajasthan's integrated irrigation solutions, the state government has implemented a comprehensive package of solutions in Sanchore along the Narmada River and as a part of this micro-irrigation technology has been made mandatory for farmers. 'The report states that about 60% (15 out of 24) of the states included in the index have improved their scores in 2016-17. The improvement is because of work done in restoration of surface water bodies, watershed development activities, and rural water supply provision. Rajasthan (among the non-Himalayan states) and Meghalaya, Tripura, and Sikkim (among the North-Eastern and Himalayan states) have improved the most.
Madhya Pradesh and Rajasthan have benefited the most from community galvanization, led by local officers and NGOs, for the restoration of traditional water bodies such as farm ponds and tanks. In terms of absolute achievement, Rajasthan improved the most between the years, managing to geo-tag a staggering 55,000 assets in a single year. "In terms of incremental change in the index (over 2015-16 level), Rajasthan holds number one position in general states," reads the report.
READ FULL ARTICLE ABOUT how Rajasthan has managed to improve their water resources