Ken-Betwa river linking project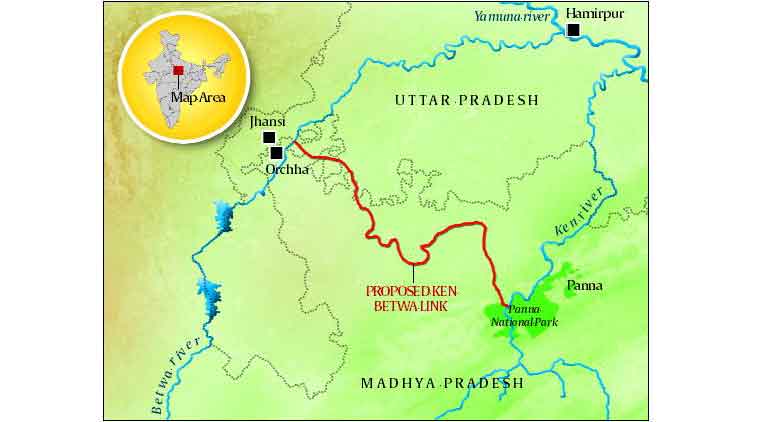 Phase I of the Ken-Betwa linking could roll soon. The background to what is probably India's most ambitious infra plan — and the status of its first project.
The initial idea, follow-up During the Raj, British engineer Sir Arthur Cotton sought to link the Ganga and the Cauvery to facilitate navigation. The idea was shelved with the expansion in railroads. The idea of inter-basin transfers from surplus to deficit areas was in circulation at various times in the last century. In 1982, the National Water Development Agency (NWDA) was formed, and entrusted with the task of carrying out water balance and feasibility studies of the linking programme of 30 rivers.
The Vajpayee resurrection
The idea gathered steam under the Atal Bihari Vajpayee government. The big plan was to connect 14 Himalayan and 16 peninsular rivers by constructing 30 canals and 3,000 reservoirs to irrigate 87 million hectares of land, and produce 34 gigawatt of hydroelectricity. The Supreme Court formed a task force in 2002, which set an action plan for all detailed project reports to be completed by 2006.
Plan starts to roll Following a tripartite memorandum of understanding signed in 2005 among the union Minister for Water Resources and the Chief Ministers of Uttar Pradesh and Madhya Pradesh, a detailed project report was prepared on the Ken-Betwa river link project. But the project ran into strong opposition by conservationists and the Ministry of Environment. In its final judgment on February 27, 2012, a three-member Bench, headed by the Chief Justice of India, expressed the "pious hope of speedy implementation" of the project. The Modi boost The project got a big boost under the Narendra Modi government, as Water Resources Minister Uma Bharti made a strong pitch for completing the river linking within a decade to tackle drought. The 9,393-crore Ken-Betwa project was allocated Rs 100 crore in 2014-15 to expedite work. But no headway was possible in the absence of green clearances. KEN-BETWA PHASE I: SOME ISSUES AT HAND IT IS yet to get formal environmental and forest clearance — both hinge on the ability of the Water Resources Ministry to address ecological concerns and satisfy the National Board For Wildlife on the project's potential impact on the Panna Tiger Reserve. ACCORDING to the Environment Ministry, Phase I of the project would result in direct loss of 58.03 sq km (10.07 %) of Critical Tiger Habitat (CTH) of Panna Tiger Reserve due to submergence, indirect loss of 105.23 sq km of CTH due to fragmentation and loss of connectivity. BUT IT would ensure availability of water to drought prone areas of both Uttar Pradesh and Madhya Pradesh, and provide irrigation to about 6 lakh hectares of land annually, and drinking water to 13.42 lakh people in the two states. CONSERVATIONISTS have alerted the government about the impact of the project on the Ken Ghariyal Sanctuary. According to the detailed project report, one of the barrages will be constructed inside the sanctuary. Project developer National Water Development Agency (NWDA), on the other hand, has repeatedly claimed that Ken Ghariyal sanctuary will benefit from the project. THE PROJECT has drawn flak for being put up in parts, and not in its entirety, for green clearances. - See more at