A Groundwater Crisis is Threatening to Erupt in India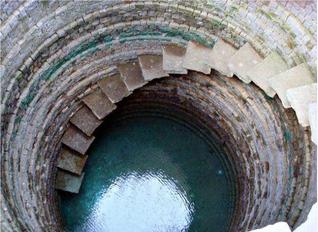 Farmers in Punjab, Rajasthan and Haryana face the prospect of having no groundwater left for irrigation by 2025.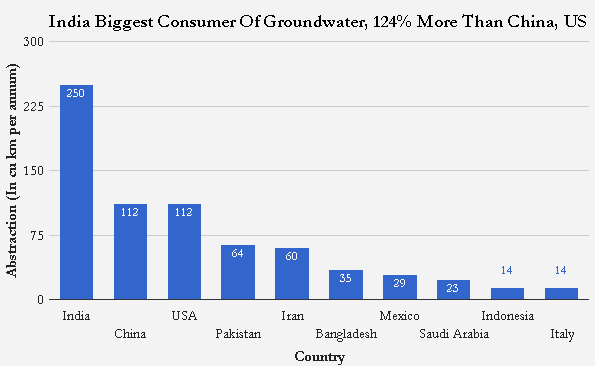 Behind the trend of falling water levels is India's 251 cubic kilometer annual groundwater extraction rate – equivalent to 26 times the water stored in the Bhakra Dam – making India the world's biggest consumer of groundwater, according to a 2012 United Nations Educational, Scientific and Cultural Organisation report.
With annual extraction rates of 112 cubic km, China and the US tie at a distant second.
Over nine-tenths of groundwater is extracted for irrigation, according to the Ground Water Year Book for 2014-15 released by the board, underscoring India's dependence on groundwater for irrigation – it provides water for 60% of the irrigated area, as IndiaSpend reported in October.
Over the last four decades – when India commissioned roughly half of its 50 biggest dams – around 84% of the total addition to the net irrigated area has come from groundwater, according to this July report by a government committee.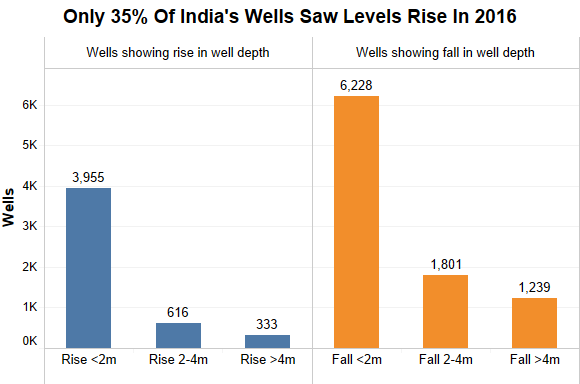 A well-recharging project implemented by the Jal Bhagirathi Foundation, a not-for-profit in Jodhpur, enabled Mahaveer Singh, a fruit and vegetable farmer from Thumbo ka Golia, a village in Jalore district in southwest Rajasthan, to switch from growing only castor oil to chillies, vegetables and, of late, Thai apple ber; his income grew by 40% and could increase by 250% if the berries yield the return Singh expects.
"Now my well yields the same water flow even in the summer months," Singh told IndiaSpend over the phone. "Now the water is sweet, earlier it was salty," he said, referring to the improved quality of water.
In contrast, the average farmer in Punjab, Rajasthan and Haryana faces the prospect of having no groundwater left for irrigation by 2025.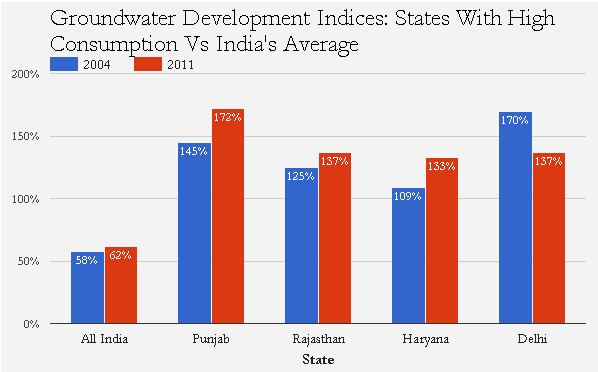 Exploiting groundwater
The problem – and the advantage – with groundwater is its decentralised access. A licence is all you need to sink a well on owned land and extract water.
Consequently, India has an estimated 30 million groundwater structures, according to the July government report.
In Punjab, Rajasthan and Haryana, groundwater abstraction exceeds the rate at which it is being replenished through rainfall, back flows from irrigation and seepage from canals, other water bodies and conservation structures.
A licence does not prevent groundwater exploitation, and instead breeds corruption within the system, said Rajendra Singh, a water conservationist from Alwar, in Rajasthan.
"We cannot police 30 million groundwater structures through a licence quota-permit raj," said the July 2016 government report, instead suggesting that groundwater be recognised as a "common pool resource", which means that it be considered a community resource and not a resource belonging to the owner of the land.
The report also suggested that the government promote "community-driven decentralised water management".
Read full article at: Scroll