Consumption of good, hygienic water trending: RodriguesFirst generation women entrepreneur, Betty Rodrigues, the managing director of Johan's ...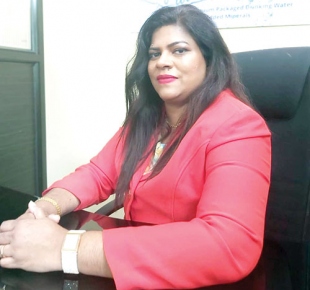 Consumption of good, hygienic water trending: Rodrigues

First generation women entrepreneur, Betty Rodrigues, the managing director of Johan's Water Resources, was a homemaker barely two years ago. Now she can proudly say she is the first women entrepreneur in the potable water business in Goa. With her product 'Goan Sip' that was launched in February 2020 amid emerging COVID-19 crises, the brand that initially came in three sizes, 250 ml, 500 ml and 1000 ml, is now launched in 20-litre containers and is available at factory price if purchased directly from the processing unit Johan's Water Resources in Colva. Team Herald finds out more.



HERALD: What made you enter the potable water business?



BETTY RODRIGUES: The dream was to provide pure and safe drinking water transported in closed vehicles up to the customer avoiding penetration of sunrays and contamination. Our moto is to be honest with what we deliver, maintain the highest quality standards and integrity, to make meaningful contributions to the community, serve and nurture high-quality balanced and healthy lives to the consumers of GoanSip, a premium brand with ISO (International Standards Organization) 22000:2018 certification which is a rare feat achieved by the company because of strict compliance to world standards.



HERALD: How do you see the new trend in drinking water space?

BR: The people today are health conscious and are avoiding fizzy drinks. Our research tells us and we have also observed that the demand of good packaged drinking water goes on increasing and consumers are getting the satisfaction if the product is of good quality. The consumer is following the trend of consuming good, safe, reliable and hygienic drinking water which is relatively good, coming out of the most modern infrastructure and technology.



HERALD: With technology changing and new sector competitors emerging, what measures have you taken to ensure safety for your own firm?

BR: At Johan's Water Resources, we have a team of competent laboratory technicians, production engineers who are regularly conducting a tool box talk highlighting the day-to-day trending technology. We regularly conduct formal technological discussions to keep up with the modern advancing technology.