Muna Hindiyeh, Professor at German Jordanian University. Senior Water Quality Expert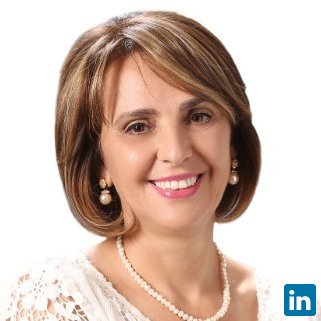 I am Fulbright Scholar visitor at Civil, Construction and Environmental Engineering Department/ North Carolina State University/ Raleigh/USA. AS well working as a Professor/Exchange coordinator at the Civil and Environmental Engineering Department, German Jordanian University (2008), as well Head of Department during 2008-2010.
Appointed as Secretary General Assistant for Water Quality and Laboratory Affairs for Jordanian Water Authority/ Ministry of Water and Irrigation (2011-2014). Had PhD in Environmental Engineering–NewCastle, England 1995- With a wide experience in Water and Environmental Health Engineering for over 25 years. Working at the Royal Scientific Society for 13 years, since 1986. Received the Arab Award for the Sheikh Abdallah Al-Mubarak Al-Subah for Scientific Research at the second level on the Arab World Level. Appointed as the Head of Environmental Science Department and assistant professor at the Jordan University for Science and Technology/ Irbid, (2000-2008).
I really enjoy teaching Undergraduates and Postgraduates for all the research in the world means nothing if there are not bright men and women ready to put those ideas into action. Develop and carrying research projects, professional work experience in monitoring and evaluation water quality, sanitation, domestic and industrial wastewater and sludge reuse projects. As expert in the field of environmental microbiology and parasitology. Organized and participate in a number of international and regional conferences. Seminars, training workshops, scientific papers, promoting environmental public awareness through training. Organizing and conducting awareness campaign, training courses and workshops on environmental education, health, sanitary microbiology and parasitology.
Published Scientific Research on disinfection of drinking water by solar radiation , using natural materials (sand, mirrors, etc.) as well by using concentrating Solar Power Technology. Also working on " Culturing Algae for biodiesel production." As well developed Master Program on "Environmental and Renewable Energy Engineering and Climate Change" with Total Grant EU: 1,006583.05. Implemented in Six universities (Jordan and Syria).
Project funded by Erasmus+, capacity building in the field of higher education . Project title: Development of Environmental Engineering and injection of climate change concept for Undergraduate curriculum: EU experience for Jordan and Syria. (EGREEN ), Grant Holder: University of Jordan; Budget: 1 million Euros; Duration: 3 Years; Start Date: 15 October 2016 - 14 October 2019; GJU Budget: 67'000 Euros. Collaboration with 13 Partners (Jordan, Syria, Germany, Portugal, Austria).
Working in different environments (academic, private, applied national sector, NGO's and donors) has also given me a thorough understanding of different workplace practices and I aim to utilize this knowledge in every job. Thanks to this experience I was learned to handle huge responsibilities for providing safe water for more than 7 million people in Jordan with collaboration with all related sectors. As I work the Secretary General Assistant for Water Quality and Laboratory Affairs for Jordanian Water Authority (2011-2014), I had responsible for maintaining a high and professional corporate profile with National and International stakeholders for Water Authority. Ensuring all activities are consistently performed under the principles of equity, fairness, inclusiveness, and respect for the diversity of people.
In addition, had been a board member of the Standardization and Metrology Institution, Jordanian Sustainable Development Society, Friends of Earth Society, and the Cultural Youth and Children Society, and Darat Shama for Elderly people. Also founder of the International Alliance for Women and Water, Jordan and the National Environmental Media Society. As well the national committees' member for setting standards and regulations for water and wastewater.
Participated in many national committees such as the Lower House of Parliament, National Water Quality Committee; National Health Strategy, and Environmental National Information, in addition to the Water Consumption Reduction Concept Committee for national school curriculums. Along with consultation serves with national and international organization such as the WHO, UNDP, and the USAID.
Strategic and Planning Director; and Socio-economic and Environmental Unit Director at National Council for Family Affairs-(2005-2008), Responsibilities: Management, Coordinates, Supervise, develop and review policies, legislation and strategies pertaining to the family. Guides scientific research and programs towards national priorities to achieve harmonized policies and strategies that are geared towards improving the quality of life of Jordanian families, such as the national legislation review and analysis project, crosscutting family issues with the National Jordanian Strategies, the National Jordanian Family Strategy as well Elderly Strategy, social policies, and research studies along with membership in many committees such as the elderly centers standards, and member in the Arab Family committee at the Arab Countries League.
I had wide experience in social and environmental responsibility, appointed as Head of the National Mirror Committee regarding Social Responsibility Guideline (ISO 26 000). Conducting training courses; organizing conferences, and being a key note speaker on Social and Environmental Responsibility in many conferences in the region, also I had issuing report regarding: Country Situation Analysis on "Corporate Environmental Responsibility in Jordan" supported by UNDP.
Engineered biological systems approach is that we are developing generic theories for specific problems. I have been pursuing and refining this vision for over 10 years with some really brilliant collaborators, methods and models. If these ideas are even partially successful, they will help the teaching mission by generating unique knowledge that only students at German Jordanian University, water and wastewater sector will be able to acquire. All the vision in the world means nothing if we cannot train a new cadre of engineers steeped in the ethos of sustainability to implement these ideas. I have a particular desire to see our existing north-south links strengthened so that we can benefit from fruitful relations with countries in different phases and stages of development. Would be delighted if we could develop long term and self-sustaining relationships in Europe and America. Both continents have much to teach and much to inspire and would ensure that our research and teaching vision is truly global.
With all my past experience, shown me directly the importance of teamwork of all stakeholders in encouraging efficient and effective work, but also in enhancing the quality of work. I personally believe that strong teamwork skills with all stakeholders I have gained there, will help me to be a valuable addition.
My philosophy was based on the following: Leading and Direction , Follow-up, Delegation, Organization; Innovations, Initiatives, influencing, do the right things, and Achievement oriented: I was successful to implement new ideas that would develop the performance of the work. I spent those years learning how to be a leader by respecting ideas, listening to the others, solving problems and conflicts then have my professional decision. By these concepts I implemented my skills to gear my work goals to success, which I see my own leadership philosophy. I have also experience in working with the most prominent Political leaders, and have often being praised and rewarded.
Dr. Muna Yacoub Hindiyeh
Civil and Environmental Engineering Department
Faculty of Natural Resources Engineering and its Management
German Jordanian University
Mobile number 00962 777488880
Tel. 00962 6 4294444 ext. 4243
Fax no. 00962 6 4300215 or 00962 6 4300217
muna.hindiyeh@gju.edu.jo
Amman-Jordan