What Delhi ​Must do to Gain ​Ground on Water ​Harvesting
According to a recent research study by DU, New Delhi's groundwater table rose from "over-exploited" to "safe" zone between 2004 and 2011, mainly due to the implementation of rainwater harvesting.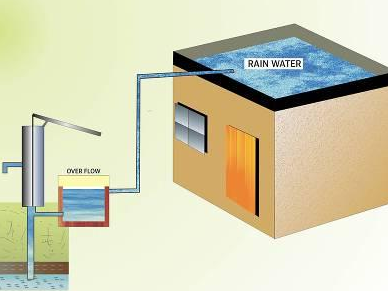 With temperatures soaring, Delhi is ever so eager in its wait for the monsoon. However, areas that have "over-exploited" groundwater are hardly prepared to catch the rainwater.
The DU team is still studying the case; so, they shared only abstract details with TOI. The study, being conducted by the department of Geology at DU and led by Shashank Shekhar, assistant professor, finds "positive change in stage of groundwater development" in the New Delhi district — from 171% in 2004 to 99% in 2009 to 90.40% in 2011.
Groundwater development is the total amount of groundwater extracted divided by net annual recharge in an area. "When groundwater development is more than 100%, it means it's exploited more than it is being recharged. It shows that groundwater is being mined," said Shekhar.
The district has also seen a general rise in depth to water level between 2005 and 2013, according to Central Ground Water Board reports. "This is mainly attributed to the successful rainwater harvesting and artificial recharge practices in Lutyens'.
Many buildings in New Delhi also have dual water supply, which helps them reuse treated waste water. According to NDMC, there are 200 rainwater harvesting pits in the district and it plans to build 98 more this year. NDMC has no data of how much water is being recharged by these pits, but they are being maintained and cleaned regularly, say officials.
Parts of south and southwest Delhi are seeing a drop by 1.7-2 metres in the groundwater table annually. It's alarming because most of these areas are in the "over-exploited" zone. TOI had reported in 2015 that locations like Tughlaqabad and Pushp Vihar are finding water at 60 mbgl and, to reach those aquifers, one has to dig as low as 80 mbgl — or lower.
According to the Centre for Science and Environment, an amendment to Delhi's building bylaws in 2001 made rainwater harvesting mandatory for all new buildings on plot size of 100 sq m and above. "Due to this building bylaw, we do have structures built in. But their effectiveness is not monitored," said Sushmita Sengupta, programme manager at CSE.
"We also need to have a city-level groundwater recharge plan in place. This is possible if the city conserves its lakes and wetlands," she added. DJB had announced last year that it would revive 100 water bodies in Delhi; however, work on only around 25 bodies has begun.
Read more: The Times of India