Water Table Mismanagement: An Ingenious Concept in Neglect
Even as the mercury is steadily rising well before the onset of official summer season and with the rapidly falling water table becoming a cause for concern, both the Telugu States continue to remain lax in promoting a modified watershed development concept that yielded impressive results in their own backyards.
Farmers of Gottigaripalli in Zaheerabad of Medak district who raised three crops last year despite it being a drought year would vouch for the efficacy of the new technology - Four Waters Concept to quickly replenish the water table. The widely reported impressive rise in water table in the village was nothing short of a miracle. It ensured copious supply for irrigation even when neighbouring villages with five-decade-old conventional technology were reeling under drinking water crisis.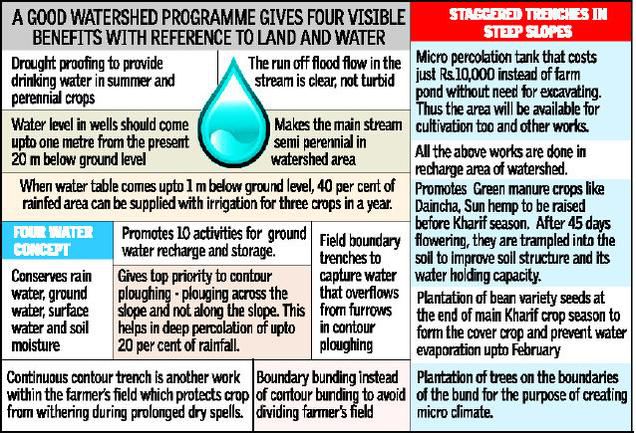 Strangely while both Andhra and Telangana governments failed to replicate the concept across watersheds in their States, Rajasthan Government, which adopted it, has been reaping the benefits.
The Rajasthan Government shared its impressive visible results recently - its water table increased in the watershed area of Jhalawar village and it even has a spring flow across a hitherto dry terrain. The marked rise in water table in 2015 was there for every one to see in the wells compared to what it was in 2014. T. Hanumantha Rao, Retired Engineer-in-Chief of United AP and UN consultant who developed Four Waters Concept says when the water table increases, spring flow will be there even if there are no rains or run off for some time.
The manual of Four Waters Concept developed by Mr. Rao with drawings and photographs to help stakeholders adopt the concept was published in 2002 by the Water Conservation Mission, Rural Development Department of united AP, and subsequently by Engineering Staff College of India in English. Later impressed by the concept, Rajasthan published it in Hindi in 2014 for the benefit of its farmers and other stakeholders.
In the united AP, the concept was taken up as a pilot project in Chittoor (Kuppam), Khammam (Madhira) and Medak districts. Mr. Rao as water resources consultant for the Centre for Integrated Rural Development in Asia and Pacific Regions monitored the implementation of this technology in Hebei province in China under Nanpi Project. "The project gave wonderful results there too," he said. Another advantage of the Four Water Concept is that it does not involve big works nor huge funds, and could be implemented in short span of time. Farmers with a day's training could do it unlike earlier watershed programme involving construction of cement based check dams, rock fill dams (which work only for initial two years in preventing soil erosion), farm ponds which cost money but do not give commensurate benefit of recharging of water table.
Sources say that the Four Waters Concept apparently was confined to the backburner despite the shining example of Gottigaripalli as apparently there is no big money to be made for the contractors as in the old technology. Surveys done by the Food Policy Research Institute, Washington, headed by John Kerr, which examined 1,000 wathersheds in India, and also Ecological Foundation, New Delhi, said conventional watershed technology did not yield the desired results even after five decades. It's time Telangana and AP Governments replicate the Gottigaripalli example across the States. If taken up immediately, the required works would be in place before onset of monsoon to harvest rain and surface water and recharge the water table significantly in the catchment areas along with ayacut area, they say.
Source: The Hindu