Tech-driven Water Supply in Urban Areas Stressed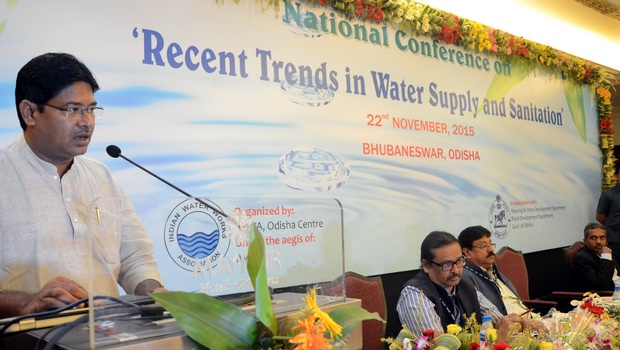 More than 200 engineers and scientists from across the country working on water supply and sanitation related issues participated in the national conference on 'Recent Trends in Water Supply and Sanitation' organised in Bhubaneswar on Sunday
Experts spoke about the need for implementation of advanced technologies with effective engineering in the urban areas. Issues pertaining to sanitation and sewerage cannot be streamlined till need-based ideas are rolled out with effective planning, the speakers stressed.
Addressing the inaugural session, Housing and Urban Development Department (HUDD) Secretary G Mathivathnan explained the urgency for 24-hour drinking water supply with universal coverage.
"Unless the potable water requirement of citizens is catered, we should not move on to other basic needs. Even the Atal Mission for Rejuvenation and Urban Transformation (AMRUT) scheme is modelled on these lines," Mathivathnan said. AMRUT lays priority on drinking water followed by sewerage and septage management and storm water drainage, he added.
Housing and Urban Development Minister Pushpendra Singhdeo said `100 crore has been approved to replace existing drinking water supply lines across the State. "Besides, the State Government's focus lies on making the cities and suburbs open defecation-free (ODF). We are starting with the Capital City for ODF programme on a pilot basis," he said.
Technologies discussed during the conference were science-based water quality monitoring, application of trenchless technology, use of the ductile iron pipes in gravity sewer network, use of GIS-based water supply and sewerage utility asset information system.
Presentations on Odisha Integrated Sanitation Improvement Project (OISIP) in Cuttack and Bhubaneswar and water supply project for IIT-Bhubaneswar, NISER and Infocity 2 were made. The conference was organised by Indian Water Works Association (IWWA), Odisha center.
Among others, IWWA president Bappa Sarkar, Engineer-in-Chief (PH) S Laxmi Pati and Project Director of OISIP Basant Kumar Parida spoke.
Source: New Indian Express