New Delhi Is Running Out Of Water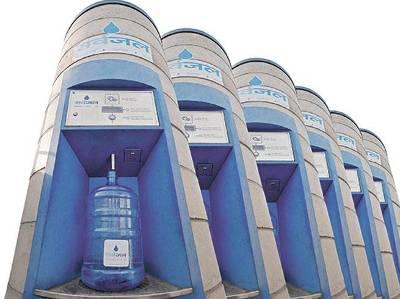 As summer temperatures soar above 40°C in New Delhi, acute water shortages are gripping parts of India's capital.
By Asit Biswas Cecilia Tortajada and Udisha Saklani
Signs of water stress are now everywhere, and residents in southern and western parts of the city have not received a regular, reliable water supply for months.
Water shortages are becoming something of an annual ritual in Delhi, the world's second most populous city. By 2030, it is estimated to grow by 11 million, from 14 million residents to 25 million - a megacity atop a megacity.
Without any changes in the city's water management policies, the prospect of all those urban residents having access to water is grim.
Unsustainable water policies
Delhi's current water policy, instituted by the ruling left-wing Aam Admi Party in 2015, promises 20,000 litres of free water per household per month. Assuming a household has five members, this means some 130 litres per capita per day should be available every day.
This plan is hampered by several basic problems. First and foremost, the city does not actually have enough water to make it happen, nor does it have enough money to give all this water away for free. Currently, some neighbourhoods have access to water just one to two hours a day
Reliable data on individual consumption is not available, as numerous households in Delhi still lack functional meters, but leakage, thefts and losses also reduce the available water supply.
In 2016, the Delhi Jal Board (the hindi word jal means water), which is responsible for the city's drinking and waste water management, estimated total distribution losses of around 40%. Many cities in both the developed and developing world have losses in the 4% to 20% range.
As a result, Delhi must actually produce daily 182 litres per person for individuals to receive their allotted 130 litres.
Even this 130 litres target is flawed, because it's arbitrary. A person can live a perfectly healthy life at around 75 lpcd. In many European cities, including Malaga in Spain, and Leipzig in Germany, per capita daily water consumption is 92 litres or less.
In Delhi, people in high-income households may consume up to a staggering 600 litres. As the country's middle class continues to grow, the need to build awareness of water as a scarce resource and instil conservation practices among the citizenry will grow more urgent.
Read more: Huffington Post