INNOVATIVE METHOD OF WATER SUPPLY BY USING EXISTING RESOURCES & CONSERVATION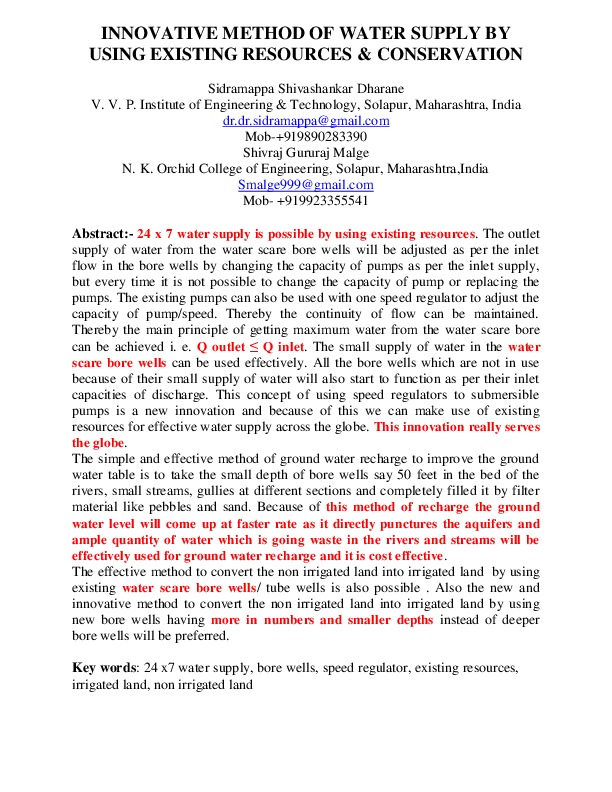 24 x 7 water supply is possible by using existing resources. The outlet supply of water from the water scare bore wells will be adjusted as per the inlet flow in the bore wells by changing the capacity of pumps as per the inlet supply, but every time it is not possible to change the capacity of pump or replacing the pumps. The existing pumps can also be used with one speed regulator to adjust the capacity of pump/speed. Thereby the continuity of flow can be maintained. Thereby the main principle of getting maximum water from the water scare bore can be achieved i. e. Q outlet ≤ Q inlet. The small supply of water in the water scare bore wells can be used effectively. All the bore wells which are not in use because of their small supply of water will also start to function as per their inlet capacities of discharge. This concept of using speed regulators to submersible pumps is a new innovation and because of this we can make use of existing resources for effective water supply across the globe. This innovation really serves the globe.
The simple and effective method of ground water recharge to improve the ground water table is to take the small depth of bore wells say 50 feet in the bed of the rivers, small streams, gullies at different sections and completely filled it by filter material like pebbles and sand. Because of this method of recharge the ground water level will come up at faster rate as it directly punctures the aquifers and ample quantity of water which is going waste in the rivers and streams will be effectively used for ground water recharge and it is cost effective.
The effective method to convert the non irrigated land into irrigated land by using existing water scare bore wells/ tube wells is also possible . Also the new and innovative method to convert the non irrigated land into irrigated land by using new bore wells having more in numbers and smaller depths instead of deeper bore wells will be preferred.