Indian Manifesto for Water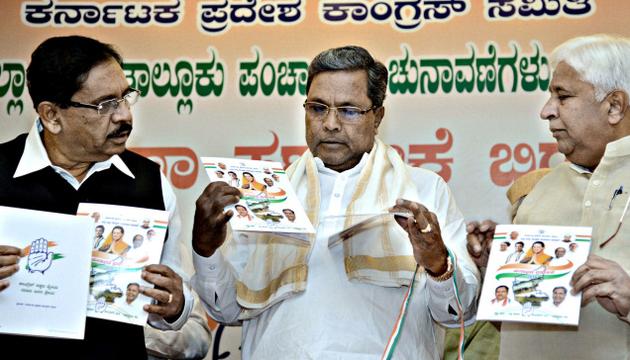 Progressive Indian Manifesto focus on water
Karnataka's roads may not have much to boast about, but the Congress manifesto released ahead of the elections to local bodies promises much on technology-based connectivity.
Among the promises are provisions of Internet at all gram panchayats to implement e-governance, establishment of information kiosks, and computerisation of records.
More grounded promises such as providing potable water for all villages also figure in the manifesto, which was released on Tuesday.
Funds for drinking water
Chief Minister Siddaramaiah and Karnataka Pradesh Congress Committee president G. Parameshwara released the manifesto, which mentioned a requirement of Rs. 45,000 crore investments and 62 tmcft of water for providing drinking water to 29,000 villages across the State.
A sum of Rs. 2,000 crore would be set aside a year for land development in rain-fed areas and to boost the income of farmers, he said.
The 21-page manifesto made 92 promises for rural development and strengthening of rural local bodies. The first phase of the ZP/TP elections would be held on February 13.
The manifesto promised to set aside Rs. 10,000 crore a year for providing potable drinking water in all villages in the next three years.
The government would take steps to provide RO plants in all villages to ensure purified water.
A commissionerate would be established for pure drinking water, it said.
'Progressive' manifesto
Mr. Siddaramaiah promised more devolution of powers to Panchayat Raj Institutions in the coming days for effective implementation of rural development schemes.
He expressed confidence of winning majority of seats in the ZP polls.
Mr. Parameshwara said the "progressive" manifesto was drafted taking into account all issues at the grassroots level. The Rural Development and Panchayat Raj Department has been implementing the 21-point programme for development of villages.
Source: The Hindu