Hands-On Approach to Sanitation Problem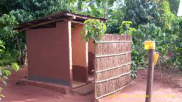 What Has Been Learned From This Academic's Hands-On Approach To India's Sanitation Problem
India's sanitation mission, Swacch Bharat, which aims to eliminate open defecation by Mahatma Gandhi's 150th anniversary in October 2019, needs all the help it can get. Only 36 percent of Indians have access to sanitation facilities, according to the latest World Bank data.
There is a growing concern about how open defecation has adverse economic impacts associated with disease, loss of education, productivity, time and tourism. A 2011 report from the Water and Sanitation Program revealed that inadequate sanitation costs India Rs 2.4 trillion (US $53.8 billion), the equivalent of 6.4 percent of India's GDP in 2006.
American-born student Marta Vanduzer-Snow, a Rutgers University scholar, has been conducting hands-on experiments to test her economic theory on development, which focuses on healthcare, education, and infrastructure. In the villages of Raebareli and Amethi in Uttar Pradesh, she has worked with Rajiv Gandhi Mahila Vikas Pariyojana in building over 82 low-cost toilets and 27 solar power plants on her own personal resources. We reached out to her to learn more about the social and engineering challenges she met with during her journey.
The toilet, she said, has a single tank, which, is five feet tall, two feet wide and nine feet long.
This is how it works: First the tank is lined with a nonporous material and then filled with layers such as broken brick, small stones, sand etc. Together these layers, through the processes of evaporation and transpiraion, filter the waste matter so that 70 percent becomes methane gas exiting out the back pipe and 30 percent slowly rises to the top as compost. Even the large leaves of the tall plants are a layer and the food is edible so long as nothing is growing close to the ground.
"The toilet model came from someone working in the Brazilian government. The important lesson is to have the humility to be open to new models from any source." said Marta, in a phone interview with HuffPost India. Her toilet costs only Rs. 9109, which she argues is not just cheaper, but superior to the government's design.
Source: Huffington Post