Grundfos to ​Supply Water ​Treatment to ​Pakistan
Chennai-based Grundfos Pump India will supply 60 AQpure, modular water treatment unit, worth 7 lakh euros to Pakistan.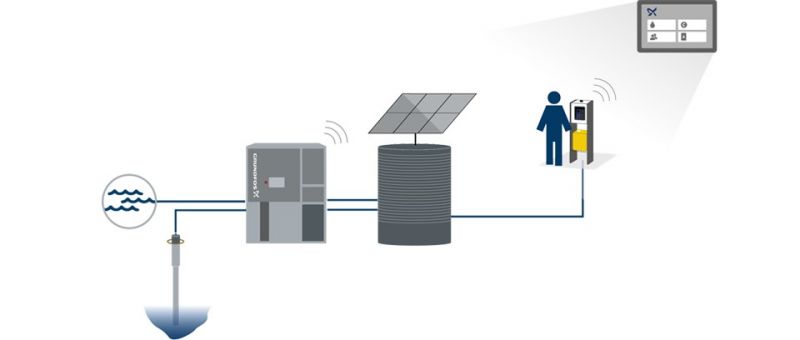 By using ultra-filtration technology, AQpure produces potable water from raw source.
Grundfos AQpure is an ultrafiltration-based water treatment system optimised for producing drinking water in local communities, also in remote areas where establishing a stable, reliable and affordable production of drinking water from lakes and rivers can be extremely challenging.
Each Grundfos AQpure system produces drinking water by filtering bacteria, viruses and particles from the raw water source.
Grundfos AQpure is built on a modular concept allowing for customisation of each AQpure system to the specific raw water quality at the site
The AQpure units are ready for April delivery to Pakistan government and water utilities there, said Poul Madsen, Grundfos Group Vice President (Emerging Water Technology).
The company, which is a wholly-owned subsidiary of Denmark-based Grundfos, has its main assembly facility in Chennai and another unit in a special economic zone near Kalpakkam, Tamil Nadu. Its third assembly plant will start operations at Ahmedabad from June 1.
Talking to reporters at Grundfos Centre here, Mads Nipper, CEO of Grundfos said India is nowadays one of the company's fastest growing markets.
"Indian market holds phenomenal potential... It is a country that has long and product tradition for pump making.
We have wonderful opportunities," he said.
On the upcoming Ahmedabad facility, he said: "We will open that, take our experience from that and make our next specific plans after that. So, right now we don t have a master plan where we say where s the next and so on. In two years, we will have more opening. Is it likely to happen to more places, absolutely, but we don t have specific plans at this stage".