Gonga SkimBike - Economical, Eco-friendly Device to Remove Trash from Water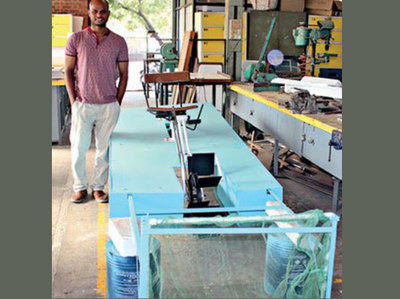 Polluted water bodies in Ahmedabad, India may have found an answer in a device developed by a National Institute of Design (NID) student that helps remove trash from the water.
Using waste material, Gonga Naveen Kumar has designed a contraption that does not require fuel to function, making it an economical and eco-friendly way to clear garbage from water bodies.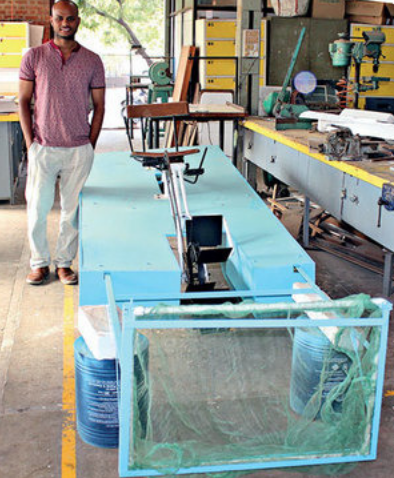 The machine designed by Gonga Naveen Kumar is 11.5ft long and 3.5ft wide.
This enables users to steer it easily in a lake.
Image source: Ahmedabad Mirror
What makes the device interesting is that empty oil cans, cycle waste, plastic and wooden sheet have been used to create it. The 24-year-old second year student of Product Design has named it a Gonga SkimBike. "There are machines to clean rivers. They are huge and run on diesel. The size will not allow them to operate in lakes and machines that run on fuel will ultimately harm the environment.
Our brief for the project was circular economy and so I focused on using recycled material. For example, I have utilised oil cans found in the kitchen in a manner that the machine can float on water effortlessly and safely," said Gonga. He has used bicycle parts. This has brought down the cost of the machine to Rs 30,000 as against the current machines whose cost may run into crores.
"We tested this machine in Ghuma Lake recently. It not only floats with balance, it removes garbage from the surface. Ide struck me when I read that millions of fishes die because of plastic in water. The plastic in water body is affecting our foodchain as well when people consume fish. Ultimately, plastic in water body is affecting us all negatively and so it is important to come up with a machine that is not only cost-effective, easy to operate but can also be used in cleaning a smaller water body for instance a lake," he said.
Read full article: Ahmedabad Mirror