Ganga water unfit even for bathing in Allahabad - Times of India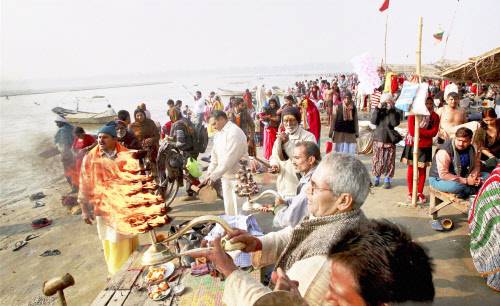 ausing an alarm on the eve of Magh Mela here, the Ganga in Allahabad has been found unfit even for taking a dip leave aside its water being used for drinking. The Ganga water samples analysed by the Uttar Pradesh Pollution Control Board (UPPCB) were found to be containing disease causing total coliform organism (TCO) over 30 times more than the permissible limit.

Thousands of devotees and pilgrims are expected to assemble for the mela beginning January 14.

As per the samples, the total count of serious disease causing organisms in the month of November reveal that the figure stood at staggering 28,000 and 32,000 at upstream and downstream of the river. The count of organism per 100 ml shall be 500 or less in water used for outdoor bathing. Similarly, in the month of October too the figure stood at 31,000 to 34,000.

The Ganga was badly polluted in September as well. The CO count in river water was found at 28,000 and 32,000 upstream and downstream respectively.

Following the increasing count of disease causing faecal organism in Ganga water, the health department which monitors the sanitation and hygiene in the Magh mela area, has this year decided to cover the drains of temporary toilets for kalpwasis in the mela with polyfibre material.

Commenting on the state of affairs, social activist and member of the district monitoring committee, National Ganga River Basin Authority (NGRBA), Kamlesh Singh said, "At least 27 nullahs pour sewage into the Ganga and 14 into the Yamuna. Presence of around 28,000 TCO comprising fecal organism in Ganga means the water is no better than that of sewage water."

He said the pollution level is so high that at Dashaswamedh Ghat here one need not use a microscope to view floating organisms.
Detailed news here