Floating Island of Plants to Clean Mumbai's River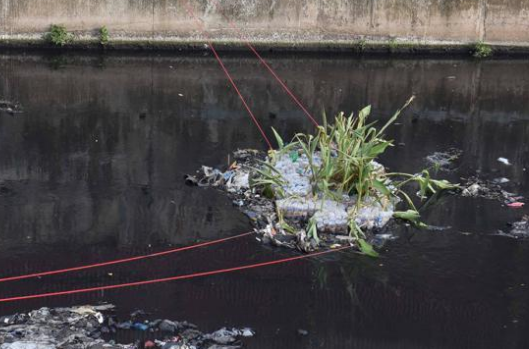 A floating island made of plants was placed in Poisar river as an experiment to see if it could be used to clean the polluted waterbody.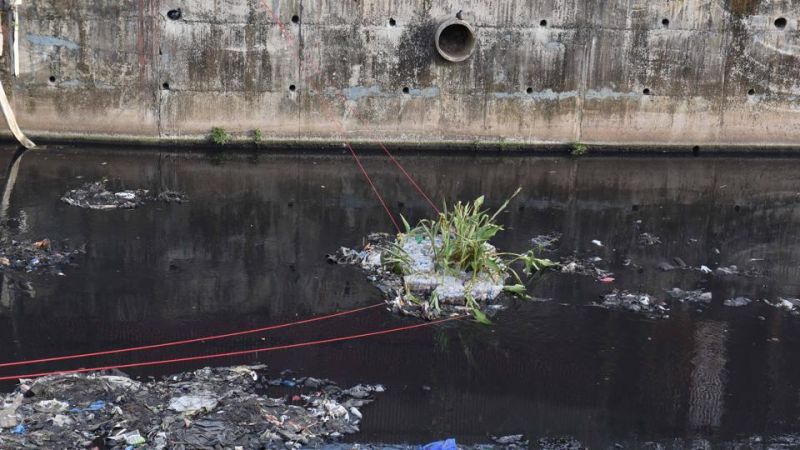 Floating island in Poisar river in Mumbai. (Pratham Gokhale/HT)
The plants were uprooted from a Metro rail construction site in Andheri and were put in 500 discarded plastic bottles which were tied together to create a makeshift 'mop'.
The Poisar, which flows through Kandivli and Borivli, is polluted with untreated sewage from residential and industrial areas. HT had reported that a study by Environmental Policy and Research India (EPRI) had showed that pollution in the Poisar river was 100 times the safe limit.
Members of River March, a group which aims to revive Mumbai's four rivers — Poisar, Oshiwara, Mithi and Dahisar — said that they have used a wetland plant species – canna indica – to create the floating wetland.
"The plants in the wetland provide a peculiar habitat for beneficial microorganisms in the root-zone (which also pump oxygen from the atmosphere into the bed) and jointly purify the sewage while the plants are automatically nurtured by the nitrogen and phosphorous in the sewage," said Shyam Asolekar, professor from the Indian Institute of Technology, Bombay.
The floating island uses plants to create a better environment for aquatic life. A group of 15 volunteers spent Sunday creating the floating island and then placed it in the river. "The idea was to recycle the plastic bottles, which would have otherwise ended up at city dumping grounds, and the plants that would have been chopped for the Metro project. However, our goal is to make sure that this wetland bed can absorb pollutants," said Tejas Shah, a member of River March. "We did this on an experimental basis and will check the results over the next few months."
What is a floating treatment wetland?
A constructed wetland bed is a natural treatment system that does not need energy or chemicals to clean wastewater
It traps the foul odour below the wetland bed and treats sewage through a continuous biotechnological process once the wastewater is released into the wetland bed.
"We are eagerly awaiting the results of the pilot project so that we can show the civic body that natural ways can be used to clean up a river like Poisar," said Tejas Shah, member, River March
Proposal to clean Poisar using artificial wetlands
The River March group submitted a proposal to the storm-water drain (SWD) department of the civic body suggesting that artificial floating islands be made along the entire 1.5 km stretch of the Poisar river
Officials from Brihanmumbai Municipal Corporation's SWD department said they were interested in using such a technique.
"This is a cost-effective measure to reduce water pollution. We will check the results of the pilot project and if positive, sanction it to contractor for all four rivers in the city," said a senior civic official from SWD department.
Read more: Hindustan Times