Fighting for Water in Bangalore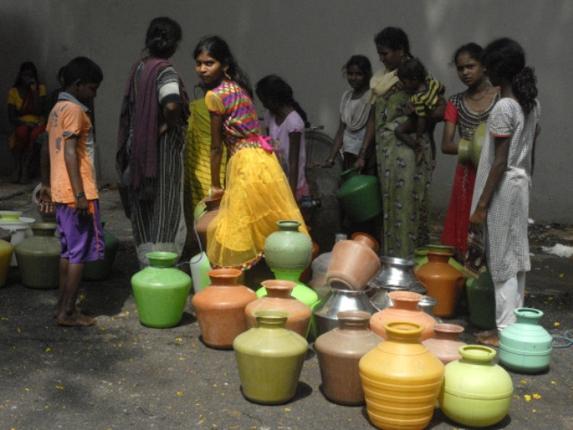 With 80,000 illegal connections and over 46 per cent of the city's water supply not accounted for, the BWSSB is taking steps to contain the losses
The figure comes after a survey by its engineers put the number of illegal connections at more than 2 lakh. Most are in slums and lower income colonies.
"We have asked engineers to check trade licences in their areas. There have been cases where people take residential water connection and use it for commercial purposes. The report is expected in 15 days," said T.M. Vijaybhaskar, Chairman, BWSSB.
If citizens fail to regularise illegal connections, cases under the Bangalore Water Supply and Sewerage Act, 1964 will be filed. BWSSB's law officer Jayaram Hegde says the Board is in the process of filing 33 such cases, which will attract a fine (10 per cent of the 'stolen' water or illegal sewage use) and even imprisonment.
Krishnappa S., Engineer-In-Chief, BWSSB, believes these steps are yielding results. "Eight months ago, our revenue used to be Rs. 75 crore per month. Now, it is around Rs. 95 crore. This shows that at least some illegal connections have been regularised," he said.
Water losses
With over 46 per cent of the city's water supply not accounted for, the BWSSB is taking steps to contain the losses.
The Unaccounted Flow of Water (UFW) project, which currently covers three divisions, is expected to bring down the loss to around 16 per cent in these areas. "We need Rs. 750 crore to extend this project to three more division and have sent a proposal to Japan Investment Cooperation Agency (JICA)," said Mr. Vijaybhaskar.
Water loss summit
Beating 28 contenders from all parts of the globe, Bengaluru became the first Asian city to host the International Water Loss Summit. Over 100 speakers and 600 delegates from over 45 countries are expected to participate in the eight edition of the event. It includes exhibition where 40 companies — international and domestic — will showcase valves and cutting edge monitoring technology to cut loss during distribution, leakage and by pilferage.
Source: The Hindu