Clearford Water Systems Signs First India Contract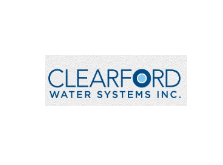 Clearford Water Systems Inc. announced that it has signed a contract with the Gurjarat Road and Infrastructure Company Limited ( GRICL ), a subsidiary of Infrastructure Leasing & Financial Services Limited (IL&FS), to install the Clearford OneTM system in a Jambudiyapura, a small village in the state of Gujarat, India
Clearford will provide an end to end servicing solution, including purpose built toilet and bathing blocks, to 51 individual homes in the village. The unique aspects of the site will provide a full demonstration of the Clearford OneTM system in India. It is expected to drive sales within the state of Gujarat where Clearford previously announced a Memorandum of Understanding (MOU) with the Gujarat Water Supply and Sewage Board (GWSSB).
This strategic partnership is intended to bring Clearford's proprietary all-in-one wastewater collection and treatment system (Clearford One™) to rural regions of the State of Gujarat. The ClearRecoverTM treatment option for this site is a Vision Earthcare CAMUS-SBT structured wetland specifically designed and sized to treat the Clearford effluent it is receiving.
"The signing of this contract along with the MOU signed in January with GWSSB is a huge step forward for the Company in India. The value of Clearford One™ in rural villages in India that have low water supply will become quickly apparent on the completion of this system which is expected to be fully operational before the end of this year", said Kevin Loiselle, President and CEO of Clearford.
"Installation of Clearford OneTM in this village will provide an Indian reference site for Clearford's technology and showcase the complete solution our technology can provide.
This is expected to lead to significant follow-on installations with the participation of both IL&FS and GWSSB. The Clearford One™ solution will make a significant contribution in meeting the sanitation needs of Gujarat and other States of India".
Neither the TSX Venture Exchange nor its Regulation Services Provider (as that term is defined in the policies of the TSX Venture Exchange) accepts responsibility for the adequacy or accuracy of this release.
Source: CNW