Can Nanotechnology Clean Bellandur Lake?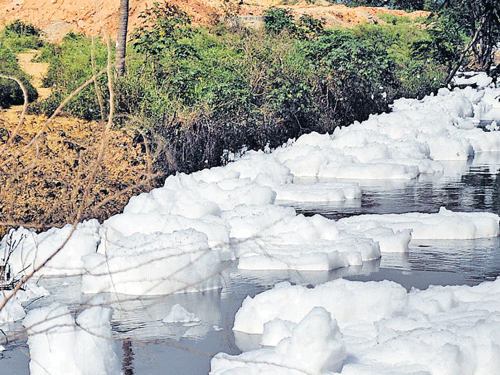 A startup by an Indian Institute of Science alumnus has developed a solution and to clean the Bellandur lake and the much-dreaded foam from it using nanotechnology.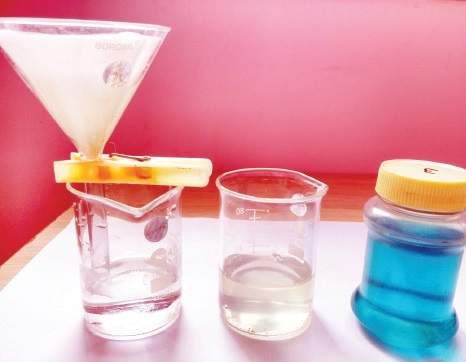 Kiruba's solution is made of nanoclusters of iron and copper
Dr Kiruba Daniel, CTO, J K Nano Solutions, says, "The pollution levels at Bellandur lake is much lower than the kind of waste we see from textile or pharma industry where dyes are used and pollute not only lakes but also groundwater."
Kiruba's company has devised a nano solution that acts as a catalyst on the surface of toxic solids. "The nanosolution consists of iron and copper nanoclusters and nanoparticles which due to its high surface and small size work on the dissolved and suspended pollutants to precipitate down. Usually pollutants settle down after nanosolution treatment which can filtered by sand filters and used in landfills. Also the nanoparticles and clusters aggregate leading to micro and macro sized particles after treatment, which acts as micronutrients for plants," says Kiruba who studied at the Department of Instrumentation and Applied Physics, IISc.
Kiruba recently gave a demonstration of his technology to the public in the city and it was meant to attract the attention of authorities. "I took 1 litre of water from Bellandur lake and added one single drop of the nano solution. It cleared the water immediately. The Mayor has asked us to give a demonstration and hopefully we can appeal to the authorities to use our solution," he says.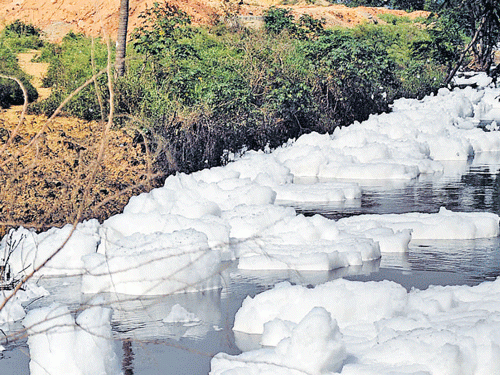 Photo: Deccan Herald
He says that much talked about foam from Bellandur lake can be immediately taken care of with his solution. With a number of industries around Bellandur lake having been asked to shut shop, Kiruba says that there he also proposes to go to them and suggest treating the polluted water at source before its release. "Although I have not yet conducted a thorough study of the exact pollutants of the water in the lake, most of it seems also to be coming from households nearby. The foam can be attributed to the high use of detergent that has gone into the water," adds Kiruba.
The startup already has six barrels of the nano solution so that they can immediately use on the lake with the permission of the authorities.
Read more: The New Indian Express