Bhandewadi Dumping Yard is Polluting Ground Water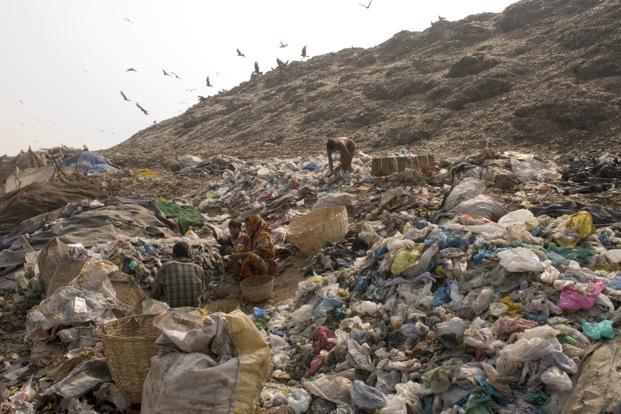 Nagpur: The residents of areas located near Bhandewadi Dumping Yard face a unique problem of having to consume water from their boring which is bring out polluted or contaminated ground water. Apart from the stench which the Bhandewadi Dumping Yard has been causing making the lives of residents miserable, other allied problems too are arising. One of the major problems which the Dumping Yard poses are the health hazards to the citizens.
While speaking to Nagpur Today Founder President of Rashtriya Janswarajya Party Rajesh Kakde said that the Nagpur Improvement Trust (NIT) cancelled the reservation of compost depot in South Nagpur which was a much-needed respite to thousands of beleaguered residents residing in the vicinity of Bhandewadi garbage dumping yard from atmospheric and ground water pollution.
Rajesh Kakde of Rashtriya Janswarajya Party said that the muck and slime which accompanies garbage gets oozed down to the ground water-table. This water is being pumped out through boring pumps by different people living in the vicinity of Bhandewadi Dumping Yard. He said that it is high time that NMC, NIT and other government agencies work on an alternate spot to dump the garbage. He said that there are many areas outside Nagpur city from where stones were mined leaving big craters. The garbage could be dumped in those spots and leveled. The stone bottom layer will avoid the oozing slime from reaching ground water.
Water bodies uncared for
Rajesh Kakde of Rashtriya Janswarajya Party went on to claim that the existing water-bodies in the city too are not being taken care of properly. The lakhs of rupees spent on cleaning operations of these water bodies have gone waste. Proper de-weeding was not done, slime and muck still exists. He said that the existing water bodies including Telankhedi Lake, Ambazhari Lake, Shukrawari Lake, Sonegaon Lake and Shakardhara Lake if maintained well, the water could be treated and supplied to people for drinking. He said that their party would take up this issue on war-footing and would ensure that water bodies yield drinking water.
Builders still flouting norms
The Maharashtra State Government had made rainwater harvesting mandatory for all buildings that are being constructed on plots that are more than 1,000 sq m in size. In Nagpur, as per the regulation, all layouts of open spaces, amenity spaces of housing societies and new constructions of area equal to or more than 300 sq. m. shall have one or more rainwater harvesting structures such as an open well or bore well, or underground storage tank or percolation pits. In the case of noncompliance with the aforementioned rules, the Nagpur Municipal Corporation would levy a fine of up to Rs.1000 per annum per 100 sq. m. of built-up area. However, if the authorities go out to check the new layouts or the new building, one will find that no system of mandatory rainwater harvesting is being done. The builders use all the space available for their construction and are ignoring the mandatory rules of rainwater harvesting.
Source: Nagpur Today