A Drop of Innovation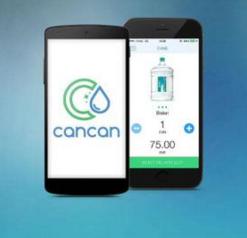 Looking for a dealer to supply you with cans of clean drinking water on a regular basis? Just pick up your smartphone and order one.
It's that simple. With the new CanCan app, it's now possible to have water cans delivered at your doorstep with the click of a button. The app, which is currently live only in Chennai, was developed by brothers Dinesh and Mohana Srinivas, and allows users to book a water can, much like one would book a cab on one of the ride service apps.
Launched in September 2015, the app currently caters to areas like Adyar, T. Nagar, Saidapet, Nungambakkam, Velachery and Thiruvanmiyur. CanCan came about when the brothers, who share a room in the city, realised how cumbersome the whole water can-procuring process was. "As bachelors, we would frequently buy 20 litre cans to meet our drinking water requirements. But the whole business is rather unorganised — the supplier would either forget to deliver a can, or would be short-staffed, and we would have to go and bring a can ourselves. We figured this was a problem that could be addressed quite easily, and developed CanCan. It was the perfect way to bridge the gap," explains Dinesh. He adds that the quality of water being supplied by local dealers was also a concern they faced.
The brothers then got working and got in touch with various water can dealers in the city, to bring them on board. "We currently have over 20 dealers, who have tied up with us to deliver cans through the app. These include both branded and local suppliers. However, since quality is a huge concern these days, we do our own verifications. In case of a branded dealer, we personally check with the companies concerned if they are verified dealers. When it comes to local suppliers, we visit their plants to check for quality, and to see if they adhere to BIS and FSSAI certifications, before we sign them on," he says.
The app, which is functional on both Android and iOS platforms, allows the user to select a can of water to be delivered to their address at specific time slots. The dealer then receives a notification, and the user receives an SMS with the reference number and customer care number for any further instructions.
Incidentally, Dinesh worked with some reputed IT companies before he quit, joining his brother to develop their own company. "I did my MBA, while Mohana did his engineering. We always wanted to start a business of our own, and not work for a company. We'd been bouncing ideas off each other for a while now," says Dinesh, adding, "Our family was a little concerned, since it meant both of us would not be financially stable for a while if we chose to be entrepreneurs. But we managed to convince them and now they're rather happy with our decision."
The brothers are now working to expand their operations in areas like ECR and OMR, and are also working on setting up a full-fledged website and IVR to book cans. "The plan is to go live in all of Chennai before summer sets in," smiles Dinesh.
Source: The Hindu