40% of India's Thermal Power Plants Are in Water-Scarce Areas, Threatening Shutdowns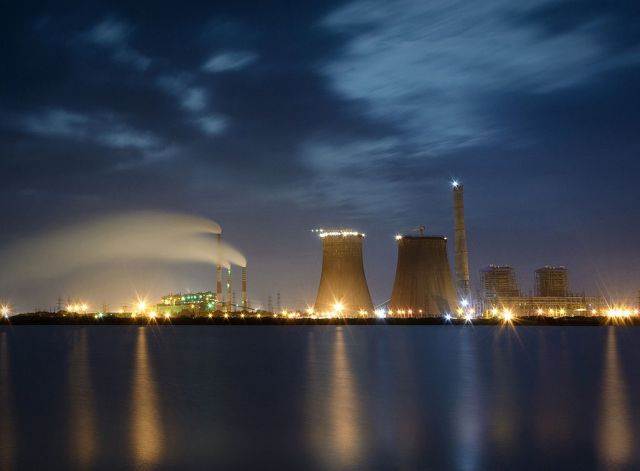 New WRI research finds that 40 percent of the India's thermal power plants are located in areas facing high water stress, a problem since these plants use water for cooling.
By Tianyi Luo
Scarce water is already hampering electricity generation in these regions—14 of India's 20 largest thermal utilities experienced at least one shutdown due to water shortages between 2013-2016, costing the companies $1.4 billion.
It's an issue that's only poised to worsen unless the country takes action—70 percent of India's thermal power plants will face high water stress by 2030 thanks to climate change and increased demands from other sectors.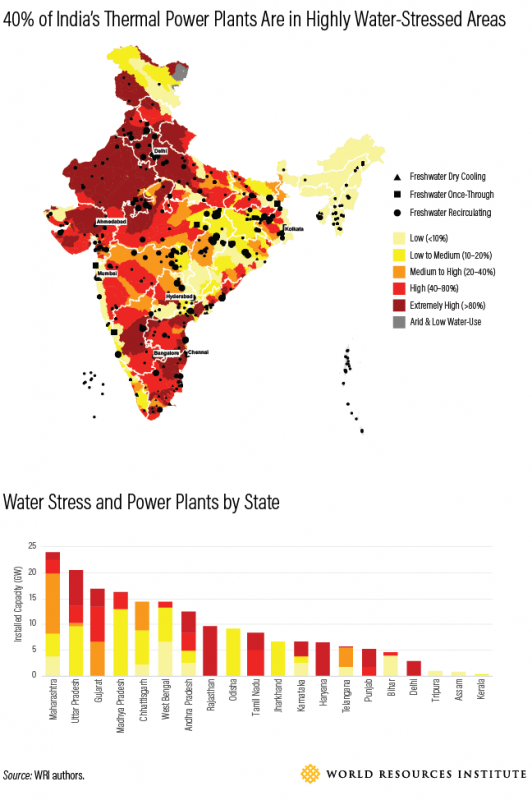 Billions of Tons of Freshwater, Consumed
Thermal power—power that relies on fuels like coal, natural gas and nuclear energy—provides India with 83 percent of its total electricity. While these power plants fail to disclose how much water they're using in their operations, WRI developed a new methodology using satellite images and other data to calculate their water use.
uch of the water withdrawn by plants is returned to the lakes and ponds from which it came, but a lot is also consumed, and not returned to its original source. We found that almost 90 percent of India's thermal power generation depends on freshwater for cooling, and the industry is only growing thirstier.
Thanks to increased energy demand and the growing popularity of freshwater-recirculating plants, which consume the most water of any thermal plant, freshwater consumption from Indian thermal utilities grew by 43 percent from 2011-2016, from 1.5 to 2.1 billion cubic meters a year.
To put this in perspective, India's total domestic water consumption in 2010 was about 7.5 billion cubic meters, according to the Aqueduct Global Water Risk Atlas. That means power plants drank about 20 percent as much water as India's 1.3 billion citizens use for washing dishes, bathing, drinking and more.
Read full article: World Resources Institute
Read and download paper 'Parched Power: Water Demands, Risks, and Opportunities for India's Power Sector'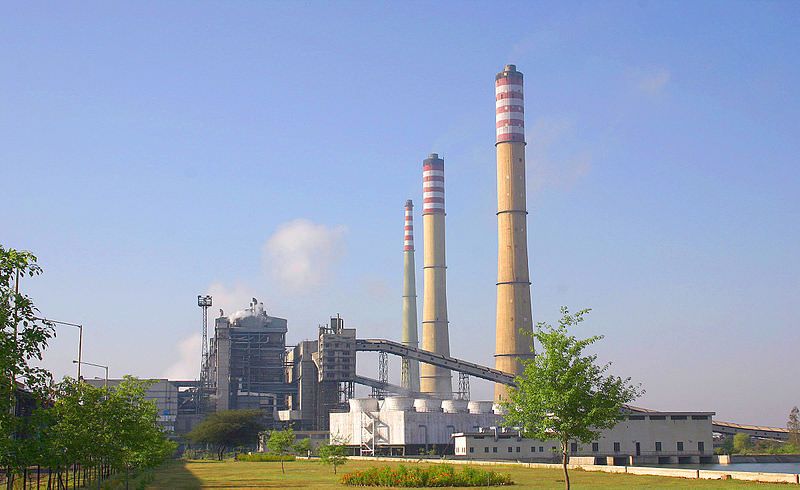 Thermal power station in Suratgarh, Rajasthan, source: Wikimedia Commons, Labeled for reuse